Get Business Info from LGTNigeria Directory with a Tweet!
New Feature Post by the Developers of LGTNigeria.com

About LGTNigeria
LGTNigeria is a very large and very comprehensive, OPEN and FREE Directory of Nigerian Businesses. Anybody can access the Directory at any time online using any device and get information about Businesses in Nigeria. The Directory is completely FREE to use and OPEN in the sense that once you're registered you can add your own Business or Website to the Directory Free of Charge. The benefit of registering on LGTNigeria.com is that you can claim your own Business and be able to edit your Businesses Information whenever you like directly from the website.

Getting Business Info via Twitter
The aim of LGTNigeria is to provide you with accurate information about Nigerian Businesses whenever you need it. In line with this objective we've made our Directory accessible from Twitter. You now have all the DATA from our 6,000+ Businesses at your finger tips! Imagine getting Address Info, Contact Numbers, Email Addresses, Websites, Social Media Sites, etc whenever you need them simply by sending a Tweet!

For example, it's lunch time, you're hungry and you need the Business Address or a Contact Number for the popular "Yellow Chilli" Restaurant. Normally, you would ask a friend, or search the Internet for their Website, look for their number and call them up but how long would that take? What if they don't have a website? How accurate/up-to-date will the info be?

With our new Twitter Query Feature you can query our Business Directory and within minutes receive a response from our official Twitter account with the information you need.

Tweet Format
If you want to Query our Directory from Twitter your tweet must be in this format:



@LGTNigeria #Query [Info you want] "[Name of the Business]"



[Info you want] this could be any information like working hours, description, address, landline, mobile, fax, email, website, facebook, twitter, bbpin, linkedin, youtube, google_plus, contact, gps, rating, picture, etc.

[Name of the Business] just enter the name of the Business and make sure you surround it with double apostrophes "", e.g. "Yellow Chilli" or "Jumia".

Here are 2 examples of simple tweets you can post on Twitter to Query the LGTNigeria Database:



@LGTNigeria #Query address "Yin Yang"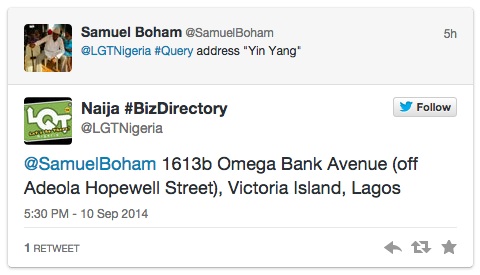 @LGTNigeria #Query landline "Konga"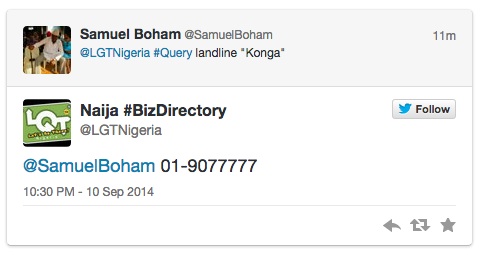 The first Tweet will return the Full Address of the Business "Yin Yang" while the second Tweet will return the Landline of the Business "Konga". Easy isn't it?

It's a Work in Progress!
Please note that this is still a work in progress and is undergoing continuous improvement. You may experience errors while using it so please bear with us. The more comprehensive our Directory gets the more accurate the information you retrieve will be. For now you should get a response for each Query within 15 minutes but in the near future you'll get responses immediately!

So give it a go. Try and query our Directory for information about any Business. Test it out and let us know what you think. If you've got any questions about the new feature or run into any problems then please drop a comment below. You can also get in touch with us on Twitter via @LGTNigeria. Your feedback will help us improve on the application.

Is your Business on LGTNigeria.com?
By listing your Business in the directory you get:

More online exposure and greater search engine visibility (Google, Yahoo, Bing, etc).
Increase your Companies Reach.
Showcase your Business' offering.
Connect with new Customers and Companies.
Grow your Business Network and forge new Business Relationships.
Posted 4:41pm, Tue 9th September, 2014 by Hexgear
| | | |
| --- | --- | --- |
| | | 1 comment |
Re: Get Business Info from LGTNigeria Directory with a Tweet!
by wisdomland posted 12:08pm, Sat 14th February, 2015

| | | | | | | |
| --- | --- | --- | --- | --- | --- | --- |
| | | 0 | | | | 0 |
Dear Prospective Buyer,

Bonny Light oil is a high grade of Nigerian crude oil with high API gravity (low specific gravity), produced in the Niger Delta basin and named after the prolific region around the city of Bonny.

The very low sulfur content of Bonny Light crude makes it a highly desired grade for its low corrosiveness to refinery infrastructure and the lower environmental impact of its byproducts in refinery effluent.

Other grades of Nigerian crude oil are Qua Iboe crude oil, Brass River crude oil, and Forcados crude oil. The Cabinda crude oil is a common grade of crude oil produced in Angola. The Bonny Light is in high demand specifically by American and European refineries. It is therefore a major source of income generation from the oil rich nation.

The National Government of Nigeria runs and takes part in the petroleum industry of Nigeria through the Nigerian National Petroleum Corporation.

Our Company, Wisdomland Oil & Gas; is committed to act as Broker between Buyers and Sellers of Bonny Light Crude Oil (BLCO) in Nigeria.

Our job is to link you (Genuine Buyer) to one of the numerous APPROVED NNPC exporters (Approved Seller) we have in Nigeria that deal with Bonny Light Crude Oil (BLCO). We don't just link you, we will act as your Direct Mandate/Consultant in Nigeria by making sure you get quality crude oil at a reasonable discount.

We work closely with most NNPC authorized sellers that have genuine product for sell and we also know the lifespan of their licenses. We have them on CIF, TTO, TTT, FOB, etc. We promise to link you to a reliable seller with a reasonable discount.

Always focus on getting a genuine dealer if you want to hit it big in the Nigerian Crude Oil and Gas Industry. The solution is dealing with only APPROVED NNPC exporter licensed by NNPC Crude Oil Marketing Department.

If you need Bonny Light Crude Oil, then contact us! And we will do the running around for you at the speed of light.

Please send your desired transaction procedures to us. We will get back to you as soon as possible.

Contact us:
Address: 17, Ahmadu Bello Way, Victoria Island, Lagos, Nigeria.
Mobile: +2348086705100
E-mail: wisdomlandcomputers@gmail.com

Thank you.

Wisdom Nwanna
MD/CEO
| | | |
| --- | --- | --- |
| | | Add New Comment |
| | | |
| --- | --- | --- |
| | | Blog Archives |